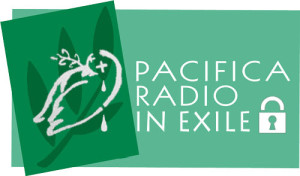 Berkeley – Several KPFK employees were greeted Monday morning with anonymous letters in their company mailboxes with a September 23rd postmark from Santa Clarita, CA. The anonymous letters contained an email sent from their fomer interim general manager and long-time operations manager Zuberi Fields to interim ED Margy Wilkinson and CFO Raul Salvador.  The email, dated December 15, 2014, consists of an inquiry into the costs of layoffs for a number of employees specified by name as: Mark Maxwell, Grant Fitzgibbon, Daniel Fritz, Rita Neyter Skiles, Bridgette Ramasodi, Janee Taylor, Ian Masters, Ali Lexa Al-Hilali, Kevin Walker, Margaret Prescod, Sonali Kolhatkar, Bipasha Shom and Margaret Le Pique.
The original document and mailing envelope can be seen here, courtesy of one of the recipients earlier today.
The release of the email after 9 months in the form of an anonymous envelope from an unknown party and location, constitutes an abusive and harassing action towards KPFK's employees, already cut to half-pay until the end of the year. The recipients of the email, Wilkinson and Salvador, either sent the anonymous copies themselves, or released the email to unauthorized parties who then mailed them out.
The anonymous letters indicate Pacifica is suffering an acute breakdown in professional personnel management by it's lame duck boards and interim executive directors, and the extent to which KPFK management and local and national boards are presiding over an environment that is increasingly abusive and threatening to workers. The letters arrived one week before KPFK's employees will be asked to mount a one-month-long fund drive with a goal of $750,000 on half their usual work hours.
The letters were also referred to on a Facebook page called KPFK United Staff with this unattributed description: "What kind of scumbag would send anonymous letters to staff containing confidential emails by the former iGM, assessing possible layoffs? This is another cowardly effort to psychologically terrorize the beaten and abused staff at KPFK. As if union-busting with massive reductions  and layoffs, and withholding pension payments, seniority pay and union dues wasn't enough!!"
Laid-off development assistant Sue Cohen Johnson posted that volunteer "community relations coordinator" and sometime paid security guard Adam Rice told her to "expect these letters" last week, which if true, indicates that Pacifica management is sharing personnel documents with favored volunteers who may be using them to intimidate co-workers. One of Rice's long aggressive rants on Facebook on August 18th was pointed to by Cohen as evidence that he may be the culprit since he mentions "14 employees" which is the exact number of people named in the document, but how he received the email sent only to Wilkinson and Salvador is not clear. Rice's "community affairs coordinator" position is penciled in as a new half-time paid job in Radford's 2016 staffing plan.
Also earlier today, 18-year veteran music host Derek Rath resigned on-air, announcing this edition of Global Village would be his last, after almost two decades. Rath is also an award-winning producer for National Public Radio, producing over 30 episodes of Day to Day.  Rath's on-air announcement can be heard here.  Rath stated in a September 8th email to Radford and the KPFK local station board that they were either "not thinking straight or trying to bring down the station". Rath's whole email in which he describes management and the boards as "out of sync with reality" can be read here.
The LA law firm of Mandel and Manpearl sent another letter to Pacifica about the delayed election and their intent to file for injunctive relief to end the delay. The letter revealed their clients in Levin vs. Pacifica to be LA Weekly founder Jay Levin and former Pacifica ED Grace Aaron.
At last week's KPFK local station board meeting, current board chair Lydia Brazon stated that she would be taking over as yet another "volunteer executive director" after John Proffitt resigned four months after taking the job.
The Progressive Commentary Hour will once again discuss the state of Pacifica Radio Tuesday September 29th at 7pm Eastern, 4pm Pacific on the Progressive Radio Network.
Pacifica in Exile readers may write to the board at pnb@pacifica.org.
For readers who may wish to do more, any donor to a California-based not for profit organization like Pacifica may file a complaint to the open file at the Registry of Charitable Trusts at the Office of the CA Attorney General. Pacifica's case number is CT011303. The form and instructions for filing may be downloaded here.
To subscribe to this newsletter, please visit our spanking new website at www.pacificainexile.org
###
Started in 1946 by conscientious objector Lew Hill, Pacifica's storied history includes impounded program tapes for a 1954 on-air discussion of marijuana, broadcasting the Seymour Hersh revelations of the My Lai massacre, bombings by the Ku Klux Klan, going to jail rather than turning over the Patty Hearst tapes to the FBI, and Supreme Court cases including the 1984 decision that noncommercial broadcasters have the constitutional right to editorialize, and the Seven Dirty Words ruling following George Carlin's incendiary performances on WBAI. Pacifica Foundation Radio operates noncommercial radio stations in New York, Washington, Houston, Los Angeles, and the San Francisco Bay Area, and syndicates content to over 180 affiliates. It invented listener-supported radio.